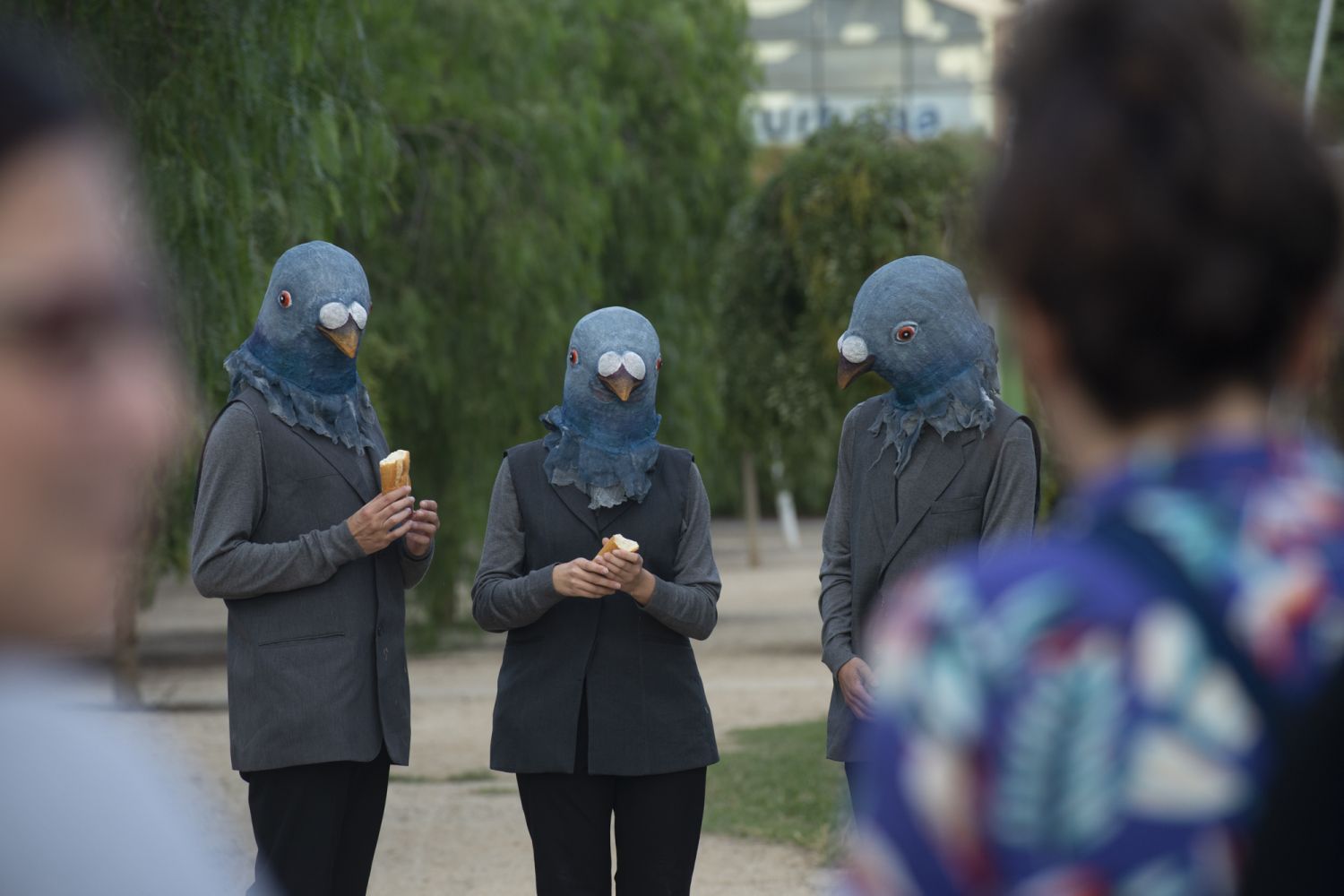 Feel like a bird, feel like a fish, feel like a plant, feel less human.
/ Interspecies / Public space / Otherness / Humans /
We are surrounded by people and other living beings. But why do we care about some lives and not others? Can we feel empathy for a tree, a fish or a bird? How can the attempt to put ourselves in their shoes change us?
Sfumato (assajant per la caiguda dels contorns) is an itinerant, immersive and poetic reflection on how we relate to those different from us, on the relationships we build with other species in public spaces. A journey that seeks to blur our boundaries as humans, opening cracks where new feelings of empathy, care and solidarity can begin to flow.
Llum de Fideu began to take shape at Barcelona's Institut del Teatre. Anna Claramonte and Marc Guillén feel that they share a way of understanding theatre and life. They made their debut thanks to their participation in the Embrions 2021 programme at the Escena Poblenou Contemporary Creation Festival, performing an excerpt from Sfumato (assajant per la caiguda dels contorns).
Anna Claramonte has contributed to shows by various companies such as La Fam, Eléctrico 28, La Santísima Trinidad and Visitants.
Marc Guillén has worked as a performer and assistant playwright. He is currently a member of Laboratorio de los Imposibles and has started to collaborate with the company Kamchàtka.
Written and directed by: Anna Claramonte and Marc Guillén / Performers: Anna Claramonte, Marc Guillén, Mauricio Sierra and Francesco Sinopoli / Technician: Ximena Cañas / Costumes: Elisabet Meoz / Accompaniment: Sergi Estebanell / Artistic advisor: Núria Legarda / Tour production and distribution: Rita Stivala
Supportted by: ICUB Beca Crea; Institut del Teatre; Institut Ramon Llull; Escena Poblenou; Fundació Joan Brossa; Roca Umbert; Can Felipa; La Casa del Teatre Nu